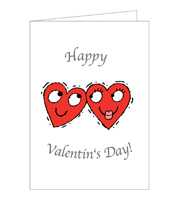 Valentine card
Valentine's Day: Origins and Modern Traditions
According to numerous websites, most historians believe the origins of Valentine's Day can be traced to the ancient Roman Empire. The day is particularly linked to an event called the Feast of Lupercalia, when young Roman boys and girls who were usually separated were brought together. On the eve of the festival, a drawing was held in which young boys drew names of young girls. The pairings were intended to last until the end of Lupercalia, but the couples often fell in love and got married. The tradition lasted for many years until it was discontinued because of a growing sentiment that the event was not Christian and drawings were based on luck instead of sight.
Even though the tradition was discontinued, it is one of the reasons Valentine's Day is associated with romance today. However, the Valentine's Day name is believed to have come about because of the efforts of a heroic priest named Valentine. One legend says that Valentine challenged Emperor Claudius II, who canceled all marriages and engagements in Rome. Valentine disobeyed Claudius' orders and secretly married couples until he was beaten to death once his acts were discovered. Many historians believe his death occurred on Feb. 14, about 270 AD, and that he was named a saint after his death. Another legend says Valentine fell in love with a jailer's daughter, who visited him during time spent in prison. Valentine wrote letters to the jailer's daughter, ending them with, "From your Valentine," a term still popular today. During the Middle Ages, Valentine was viewed as a romantic hero and priests eventually moved Lupercalia to Feb. 14. In addition, it is believed that Pope Gelasius declared Feb. 14 as Valentine's Day around 498 AD in honor of Valentine.
Most of today's Valentine's Day traditions involve couples buying each other gifts and chocolate. In addition, many people send their family members, friends, coworkers, teachers, etc. Valentine's Day cards, candies or gifts to show their love. Others like to keep it simple and go to a romantic dinner or wish their loved ones, "Happy Valentine's Day."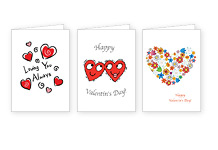 free printable Valentines Day cards
more

Valentinstag