Printable Birthday Invitations
Free printable birthday invitations
Download free birthday party invitations and print from your own printer. The birthday invitation templates are available in PDF format, please choose your paper size: US-Letter - 8.5" x 11" or A4 - 210mm x 297mm.
printable birthday invitations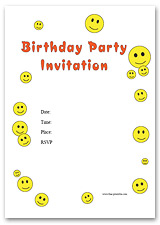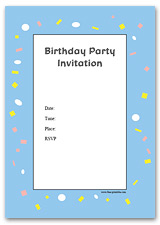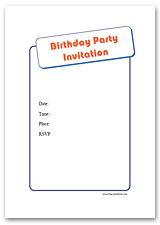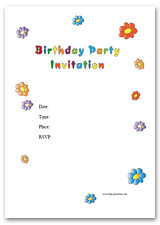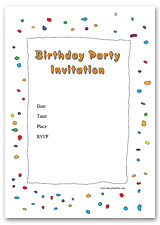 please click here for more printable invitations
Tips For Birthday Party Invitations
A party is a fantastic way to celebrate a milestone or other occasion. If a person wishes to celebrate a birthday, it is perfectly acceptable to throw a birthday party. Some people choose to use a theme for the party. Guests may dress up in elaborate costumes; if this is not the case, the party may simply take place at an unusual location. However, birthday parties do not amount to anything if birthday invitations do not enter the equation. If a person wishes to find tips for birthday invits, the information below may be helpful.
1. Create the Birthday Invitations At Home
If a host wishes to showcase enthusiasm for the birthday party, it is essential to create the birthday invitations at home. Invitations from a store do not usually convey the right mood, and buying invitations does not take a lot of effort. A person can find materials for making the invitation cards in a kitchen or other area of a home. Markers, crayons, stickers, and other materials are appropriate in some instances. If a person does not have the time to create birthday party invitations by hand, there are printable birthday invitations on our website. There are birthday invitation templates for any theme imaginable.
2. Consider the Theme of the Party and What Is Appropriate
When a person wishes to invite other people to a birthday party, it is a terrific idea to think about the theme of the party. Are guests expected to dress casually, or are dresses and tuxes more appropriate? Is the party for a child? When a person is aware of the theme of the party, it is easier to design a birthday invitation. For example, it is not suitable to send invitations covered in stickers for fancy parties.
3. State Information Clearly To Avoid Confusion
A person should use caution when writing text for an birthday invitation. Poor invitation wording can lead to confusion or even frustration. An invitation should be clear about where the birthday party is taking place. It is also beneficial to note when the party may start. If a guest may bring a second person, this should also be noted. Some guests may be new to the community; as a result, they may be unaware of the location of a certain house or other building. A person should provide clear and precise directions. There should be no room for miscommunication and drama.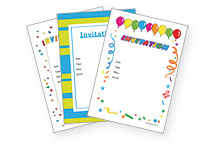 free invitation templates for birthday, party and much more... more