Printable Printable Christmas Place Cards
Add Elegance With Printable Christmas Place Cards
Christmas place cards can be used to add a touch of elegance or whimsy to your table setting this season. Whether you are planning a formal event for your business contacts oran informal holiday brunch for close friends, you will find a variety of place card ideas to suit your needs. Printable place cards are an easy and beautiful way to transform an everyday table setting into something unique and special. Christmas place cards put the finishing touch on a holiday table.
You don't have to be creative in order to create attractive christmas place cards for guests. In fact, you can find many different place card template designs on our website. There are also christmas place card template idea suggestions online too for those hosts that may need a little bit of help creating place cards. It is quite easy to create christmas place cards by using our printable christmas place cards.
The place card templates are available in PDF format, please choose your paper size: US-Letter - 8.5" x 11" or A4 - 210mm x 297mm.
printable christmas place cards black/white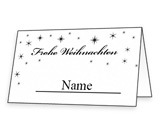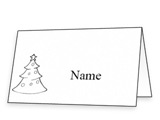 printable christmas place cards colour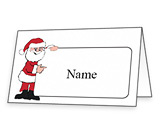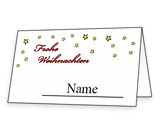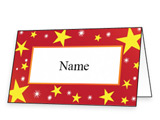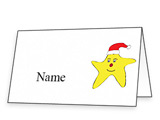 Homemade Christmas Place Cards Idea
Homemade place cards can also be easy to make. Spruce up a place card with a Christmas or holiday themed stamp or punch. Use your best calligraphy hand or print cards with a fancy script. A few ideas from a search or even a good holiday book from the library will give you plenty of options for festive and decorative Christmas place cards no matter what type of event you're hosting!
a lot of place card templates and free printable place cards... more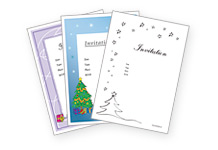 a lot of free christmas invitation templates and printable christmas invitations... more

Tischkarten Weihnachten