Free printable invitations
Here are our free printable invitations. The invitation templates are easy to use, please choose your favorite invatation, download it, put in your text and print the invitations from your own printer. The templates are available in PDF format, please choose your paper size: US-Letter - 8.5" x 11" or A4 - 210mm x 297mm.
more about birthday invitations and party invitations
printable invitations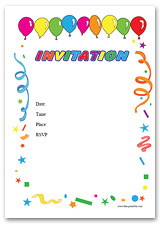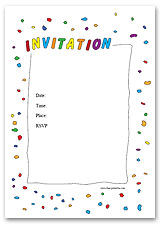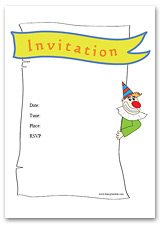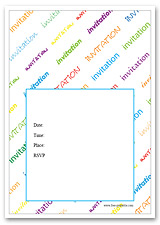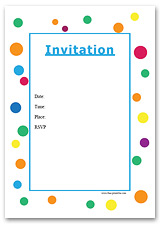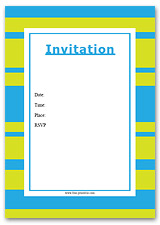 The Many Uses of the Invitation
What are some uses that you can get from an invitation? Well, invitations are used for invites to parties, dinners, weddings, a birthday party and many other occasions. Invitation cards are also used for anniversaries. When you are considering inviting people to an event, you have to examine many different things about these party invitations. There are two main aspects involved with the layout of the invitations, which are invitation designs and invitation wording.
Your Invitations
You can design your invitations if you have a printer and computer with the capability of designing. You also need to have the printable invitations to complete the job yourself. Using a printable invitation can actually save you some money in the end. The good thing about printable invitations is that you can have them ready in no time. Simply by having your invitation template complete, the only thing left will be printing them out.
What Types of Invitations are for You?
If you decide to do the invitations yourself, you have to make sure your invitation templates will carry the theme of the party. A great example would be for birthday invitations, which would carry a birthday theme. You can even mention on the invitations that it is for a surprise party. Your main goal is to have your invitations go hand-in-hand with the party's ambiance. When you are designing your invitations, you can also get a variety of software programs that can give you ideas on how to decorate your party invitations.
Keep Your Invitations Short and Appealing
The main idea of an invitation is to have a welcoming feeling. If the invitation doesn't seem inviting, then the person might not even consider attending. Try to make your invitations appealing and fun at the same time. Putting important details about the event and omitting unnecessary information will keep your invites short and simple. Moreover, just because an invitation is short and to the point, this does not mean you can't dress it up a little. Following some of these steps with your invitations can get you started on having a successful party.
For more free printable invitations and free printable card templates click here:
free printable birthday invitations
free printable christmas invitations
free printable valentine cards
free printable place cards